March 08, 2022
By: John Tomblin, Senior Solutions Architect
Phoenix Bizz, a division of Sofvue, LLC
Printed with permission of Sofvue, LLC and the author

It's already common knowledge that Augmented Reality (AR) is changing the world of eCommerce, but it's also changing other industries, especially in the construction and interior design marketplace. With (AR), interior designers can show consumers exactly how something might look in their home. Whether it's how a wall using Sherwin Williams "Cooper Mountain" paint will look or adding the famous 1942 "Nighthawks" painting by Edward Hopper, Augmented Reality provides a visual like no other, and one of the biggest benefits for interior designers is to show their customers how an interior will look before investing a dime in actual costs.
The augmented reality market was valued at $14.7 billion in 2020 and is expected to reach $88.4 billion by 2026, growing at a CAGR of 31.5% between 2021 and 2026, and this is the highest Compound Annual Growth Rate (CAGR) I have ever seen.
Augmented reality will change the way people view interior designing, both for the consumer and the designer. As one example, using (AR) enables a consumer to view, in real-time, ideas and changes to their interior home design, allowing consumers to make real-time decisions meeting their specific requirements.
What is Augmented Reality?
Augmented reality is the technology that allows anyone using the right web application or mobile app to overlay visually, sensory information onto real-world environments to provide an interactive experience.
The primary advantage of using (AR) with interior designers gives customers a better understanding of how their home will look after work is complete. Designers can show their customers how a particular piece of furniture or color will appear in a room, allowing the customer to view how the room will look, and make instant decisions.
Augmented Reality in Interior Designing
Interior design companies have already started leveraging (AR) to increase their business and provide a better experience for their customers.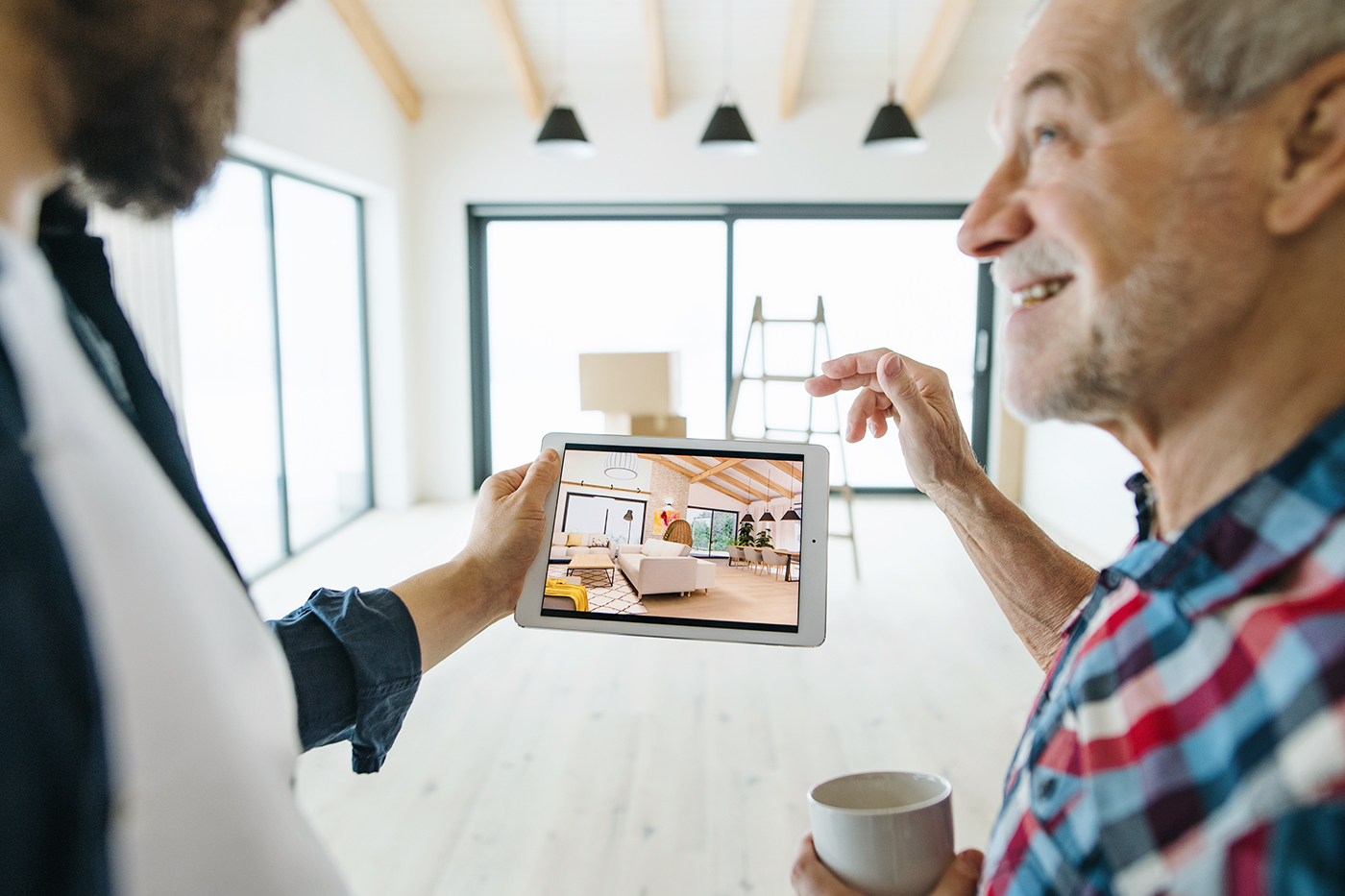 Benefits of Augmented Reality in Interior Designing for Customers
Now that you have a basic understanding of what (AR) is and how it is used, let's understand how it can benefit your customers.
1. Better Visualization
AR can significantly reduce the time required to coordinate the project by offering better visualization to customers. With 3D visualization, customers can see how every room looks, including the furniture and wall paint.
They can even dive deeper to see every room in detail. This, in turn, enables customers to use their space in the way they want. This way, they won't have to worry about expensive changes done in regard to the actual decor.
2. Find and Try Products Remotely
No matter where you are, you can find and try new pieces of furniture for your home without travel or cost. For example, IKEA allows you to place various pieces of furniture without requiring you having to drive to an IKEA or even leave your living room.
3. Fewer Returns and Reiterations
Whether you're buying furniture or renovating your home completely, (AR) can help reduce returns and ensure faster delivery. That's because, with (AR), you'll know how things will appear in your home, ensuring you order only those products that meet your design requirements.
Even when renovating your home, you'll know how everything will look, including the wall paint. And when you have approved the changes in the (AR) designs, you won't have to worry about reiterations with real decor.
Benefits of Augmented Reality for Interior Designers
Augmented reality is beneficial for interior designers as well. Here's a few of them.
1. Better ROI
Fewer returns and iterations significantly reduces logistics and travel time, something interior designers have been fighting for decades. Also, an effective (AR) visualization effectively eliminates that which is not wanted and leaves only that which is. This streamlines the design process, saving the designer additional labor and logistics costs. Together, all of this can have a significant impact on your return on investment (ROI).
2. Competitive Advantage
As a designer, you can also gain a competitive advantage by providing an immersive experience for your customers, as well as less likely to go to a competitor.
3. Positive Word of Mouth
People love to share positive experiences with their friends and colleagues. With (AR) visualization, you can provide customers with a near-real time look of their home without any significant outlay of cash. Positive word of mouth will help you drive more customers, thereby improving your revenue.
How Can You Leverage AR in Your Interior Design Business?
One of the best ways tactics you can use to leverage (AR) in your interior design business is creating a mobile app using already existing (AR) API's. This allows your customers to access (AR) designs for their homes right from their mobile device. As a design, this allows you to attract remote customers, lessen the conversion process and see more customers per day.
PhoenixBizz is a leading mobile app development company in Phoenix, Arizona. Our mobile app team has the designers, architects, PM's, analysts, programmers, and testers ready to build you an AR-enabled app for your interior design business. We are always in the office when you are ready to with questions, so give us a call at 623-845-2747.
Source Link:
Medium: https://medium.com/marketing-in-the-age-of-digital/how-augmented-reality-is-going-to-change-user-experience-ikea-as-an-example-747a348d9715
Markets and markets: https://www.marketsandmarkets.com/Market-Reports/augmented-reality-market-82758548.html
Share On